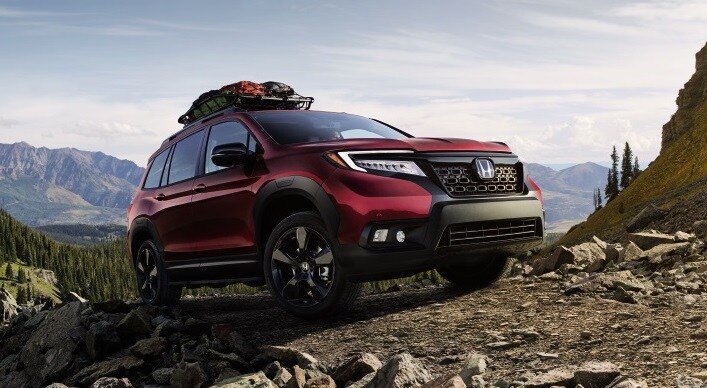 After a few years of hiatus, we here at Music City Honda are proud to announce the return of the Honda Passport, which debuted last year and will hit the streets sometime this year at Music City Honda! With its robust engine, off-roading capabilities, traction control, cargo volume, and available technology, this midsize, five-seat SUV will really bring out the "sport" part of its title. We look forward to the debut of this new Honda model and we want you to stay informed on its updates, so sign up today to receive exclusive information on the Honda Passport and when it will be available here at Music City Honda, proudly serving the greater Nashville area.
Built for the Open Roads Ahead!
The 2019 Honda Passport combines the powertrain and off-road ability that a mid-sized SUV should have, with all of the safety and efficiency a Honda brand SUV is well-known for. Underneath the hood of the Honda Passport, you will find a 280-horsepower i-VTEC® V6 engine, similar to the one found on the Honda Pilot. This engine is paired with a nine-speed automatic transmission as well as four-wheel independent suspension for a smooth performance on a variety of surfaces. In addition to the smooth feel of its suspension the 2019 Honda Passport will also come available with Intelligent Variable Torque Management™ All-Wheel Drive (i-VTM4™ AWD) system, which helps to intuitively monitor the vehicle's progress on a variety of surfaces and maximizing efficiency by concentrating torque to all four wheels. The available Intelligent Traction Management system gives you a few different inputs (Snow, Mud, Sand) so you can customize the AWD system to perform best on a variety of on and off-road conditions.
Before you head out on your next adventure, you will want to ensure that you are packed up with all the gear you need, and the Honda Passport is here to assist. This midsize, five-seat SUV features a spacious cargo area complete with underfloor storage compartments when you need them for smaller items.
Start Your Adventure Soon!
While the 2019 Honda Passport is unavailable for purchase at this time, we are quite confident that you will enjoy all that this midsize SUV has to offer you and your next big adventure. So, get on the list to receive updates and be sure to contact us here at Music City Honda if you have any questions along the way!